Politics News
You're Hypocrite – APlus Bites Sarkodie For Being Flexible On Nana Addo
Sarkodie has been widely criticized by musician and media personality Kwame Asare Obeng, often known as APlus, for being flexible in criticizing the current government on the country's current difficulties.
For a long time, Ghana's top rapper has been criticized for failing to speak out against some of the country's problems, as he did during the Mahama administration.
Apart from certain utterances aimed at criticizing President Mahama during his presidency, he was also one of the celebrities who participated in the infamous "Dumsor" campaign during Mahama's presidency.
Prior to the 2020 elections, Sarkodie and Kuami Eugene released a song titled "New day" and it was purported to be in support of President Nana Addo as per the lyrics of the song.
In what appeared as pressure on Sarkodie to speak up on current happenings in the country, he wrote on his Twitter page;
" The people are going through it!!! We always do! All we ask for is for is for the right environment to hustle/be productive"
In what appears to be a direct response to Sarkodie, APlus took to his Facebook page, he wrote;
" The hypocrisy. During John Mahama time as President the hardship was caused by his incompetence abi? Now there is a serious hardship under Akuffo-Addo, instead of telling him the truth, you added "we always do" to make you look good before them.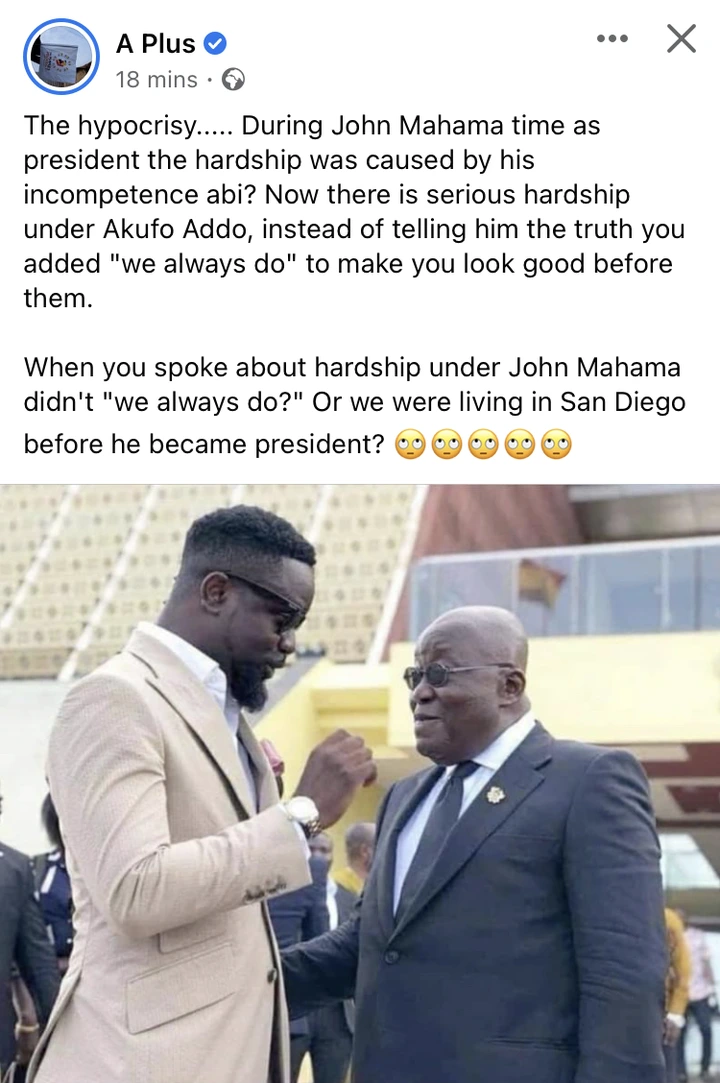 Source: AfricaWish.com