Politics News
E-Levy Is The NPP's Version Of Sika Gari – Edem Agbana
After the announcement of an e-levy in the 2022 budget, the NPP administration led by His Excellency Nana Addo Dankwa Akuffo-Addo has been heavily criticized.
The administration has attempted to rationalize it, but some Ghanaians and NDC members aren't buying it.
Eric Edem Agbana, the Deputy National Organizer of the National Democratic Congress, has taken another veiled jibe at the government for introducing an e-levy that would only apply to mobile money transactions. According to Edem Agbana, the government is giving the idea that the e-levy is the only solution to all of the country's problems.
He claims the government has borrowed a large sum of money but has nothing to show for it.
Taking To His Facebook Page, Reads;
"It appears the e-levy is the NPP's version of Sika Gari. Cos eeiii, every problem under this sun will be solved with e-levy. So far, they claim they need it to;
(1) Create 11 million jobs.
(2) Fix all roads
(3) Provide fertilizer subsidies
(4) Stop increasing fuel prices, etc
(5) Finance Agenda 111"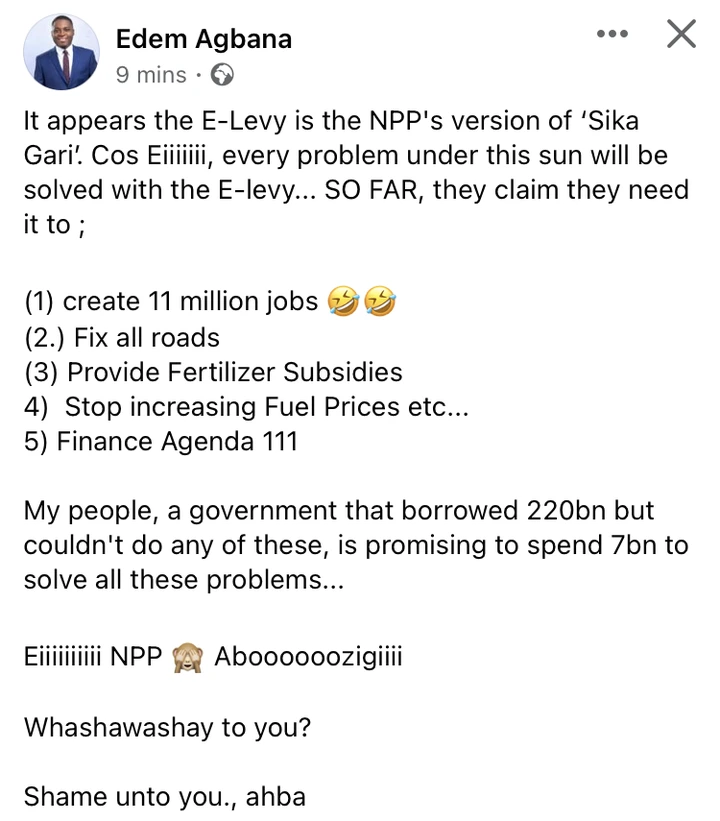 Source: AfricaWish.com