General News
Daniel, The 'Fufu Our Day Boy' Spotted In A New School Uniform [Photos]
Many Ghanaians were happy when the pictures of Daniel, a young boy from Nkwantapong in the Ashanti Region of Ghana dropped on social media. This was after the sad story of him eating Fufu at his our day celebration turned into a blessing with someone promising to adopt him in Canada.
There were indications that arrangements were being made to relocate the young boy from his village to Canada. It was supposed to be a major breakthrough for the young boy after the pictures of him and the fufu went viral. His education, life, and, future were about to be changed for the better. Time has passed and many Ghanaians have forgotten about the story of young Daniel.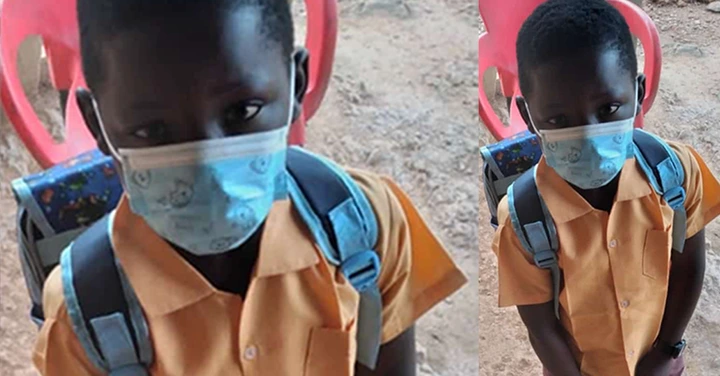 The hopes of many were that he should by now be schooling in Canada to mark the beginning of his breakthrough. A new picture of the young boy has been spotted on social media and many Ghanaians seem shocked at the turn of events. He is seen in a newly ironed government of Ghana brown and yellow school uniform with a bag and a nose mask ready for school.
He is neatly dressed in white socks and a black shoe to match, but the surprising aspect is that his outfit does not seem he is in Canada as many were suspecting. The uniform is a recognized uniform in Ghana and a clear indication that he has since not traveled to Canada. The development is strange because the promise of him being adopted by a Good Samaritan in Canada went viral and many sung praises.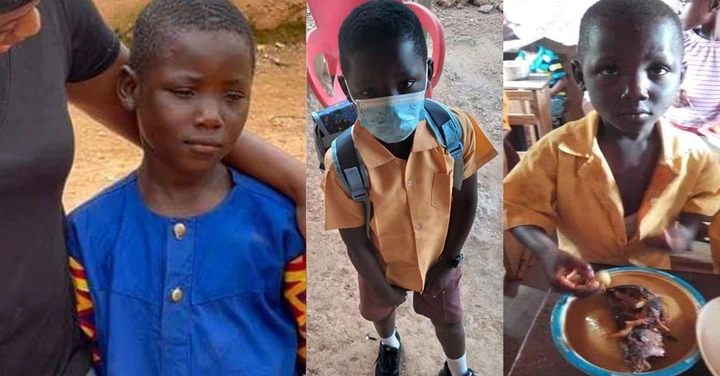 The said Good Samaritan received a lot of blessings and goodwill from Ghanaians and it beats imagination on why Daniel is still in Ghana. The other side of the matter is that arrangements might still be in the pipeline to get the boy to Canada and only time can tell. For now, he should concentrate on his education in Ghana and he can as well succeed whilst waiting for the trip to Canada.