The flag bearer of the National Democratic Congress during the 2020 general elections, John Dramani Mahama has issued strong statement warning Ghanaians about fake social media pages impersonating his daughter, Farida Mahama.
In a statement released and signed by the special aid to the former president, Joyce Bawah Mogtari, the office of the former president have seen numerous Facebook accounts in Farida Mahama's name and posting materials in Farida's name.
They hereby warned the general public, expecially the Facebook community and other social media users that John Dramani Mahama's daughter, Farida is not on Facebook neither has her parents or herself sanctioned anyone to create a Facebook page and manage for her so all those accounts are fake.
He warned that they are Scammers who are intentionally impersonating the girl so everyone should disregard any group posting or making comments in Farida Mahama's name.
They also said there's an Instagram account named farida_mahama, they said it's the same scammers doing that. They however indicated that they are working with Facebook to pull those accounts down.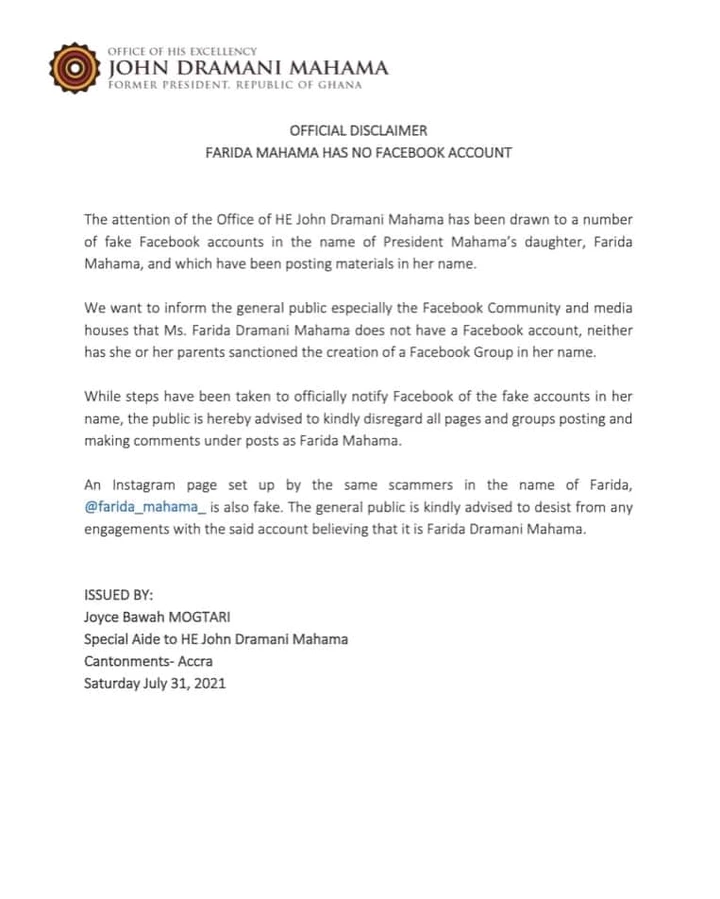 Hits: 51