As we speak, the Minister of Education, Dr Yaw Osei Adutwum and his team are hoping that Parliament will approve the GHS 34.8 million to purchase past questions for final years students of the Free SHS policy. Most Political analysts and Ghanaians after coming across this information reacted that it seems President Nana Addo Dankwa Akufo-Addo and his New Patriotic Party (NPP) lack priority in making some decisions for the country.
Research indicates that this GHS 34.8 million could eliminate more than 150 schools under trees in the country but the government has chosen to use this money to purchase past questions for SHS students.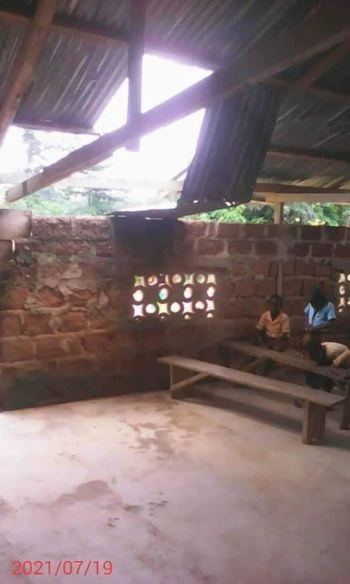 Michael Owusu Afriyie popularly known as Teacher Kwadwo has recently launched a campaign with the aim of compelling the Ghana Education Service (GES) to fix poor school structures in rural areas. According to him, some of the places GES sends teachers to go and teach posses as a danger to the teachers and the children as well.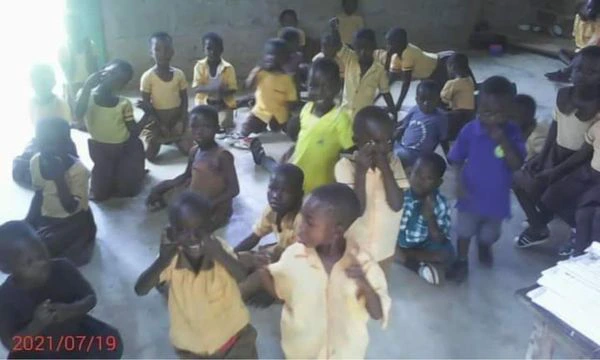 He gave a typical example of some of the schools and that is what you can see in this article. According to him, the school building you see in this article were taken on Monday, 19th July 2021. This school is located in the Bia East District, Western North Region. The name of the school is Kwabena Nktaa Primary School.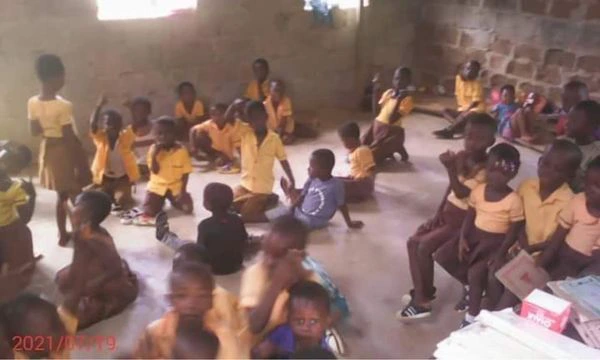 Teacher Kwadwo quizzes that what wrong have teachers caused for them to be posted to a school like this? And what wrong have these kids committed for them to be in this death trap school building? According to him, this is cruel on the part of the GES to the children and the teachers because they know very well that this building can collapse at any time on them.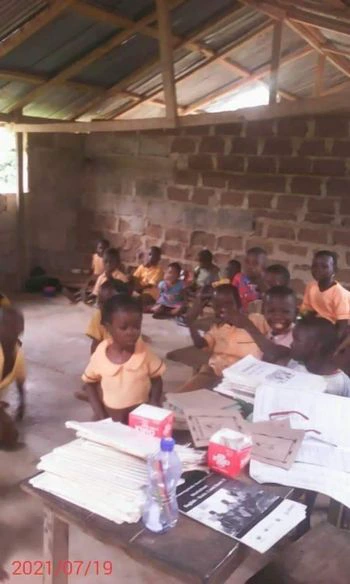 This is what Teacher Kwadwo wrote on Facebook:
These pics were taken on MONDAY. These are Pupils of Kwabena Nketaa Primary School in the Bia East district. How can a teacher be posted here by Ghana Education Service? How cruel can u allow these kids to be in this condition? oh God!!! How is the Teacher supposed to make teaching effective? District Directorates are aware of this condition yet their main focus is for the teacher to prepare a LESSON NOTE and torment them".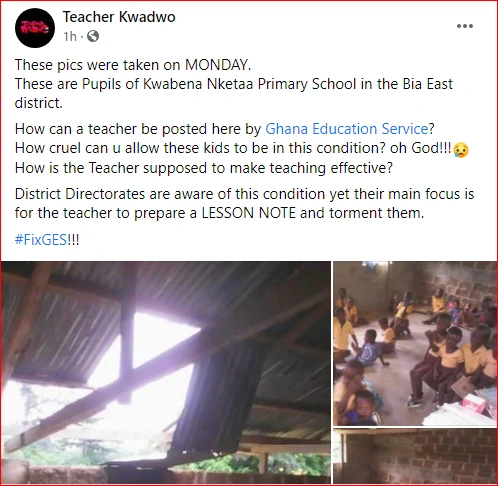 .
Hits: 34