The Minister of Food and Agriculture, Dr Owusu Afiriyie Akoto over the last few days, has been lamenting over the sustainability of the planting for food and Jobs program which is currently being saddled with huge debts.
He noted that the program which was pioneered by the Akuffo Addo led administration is in dire need of fundings as the key supplying agencies are owed huge sums of debts, this he said has led to shortage of fertilisers.
Another thing he also mentioned was to the fact that there are a couple of times where these farm inputs such as fertilisers are being smuggled into neighbouring countries for resale by unknown persons.
He indicated, he's been in the Northern part of the country where these snuggling of fertilisers do take place, and in one occasion he saw donkeys loaded with fertilisers for onwards transportation to Burkina Faso unaided, but since the donkeys were not humans he couldn't stop to question them.
"I was in the North, some of these smugglers load fertilisers on donkeys. These animals are able to enter Burkina Faso unaided, to deliver the fertiliser. I was there; I saw some of these things, but I can't question the donkeys" – he said.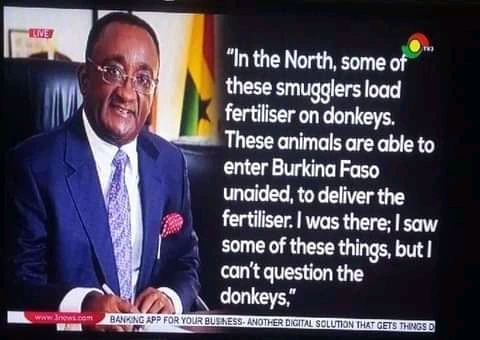 Hits: 200