Residents of Kumbungu in the Northern Region are in a state of shock this morning following an incident last night where four gun – wielding persons stormed a locality known as Aflao to rob a mobile money vendor whose name has been given as Alhassan Gamacha.
The incident happened around 8pm as  the vendor was about to close when the robbers arrived on motorbikes, announced their presence by shooting sporadically at anything before knocking him unconscious and made away with all his daily sales.
Alhassan Gamacha has reportedly awaken from his unconsciousness but still very shocked and at the Kings Medical Center where he was rushed to following the incident. With exception of the fear that has enveloped the town because of the incident, no casualty was recorded as the people who were around all took cover following the gunshots.
An eyewitness(name withheld) was among the people that took cover to avoid the onslaught of the robbers. He said the robbers who arrived on motorbikes were made up of three men and a woman.
The witness said police arrived after the robbers had left but could not do any preliminary investigations as it started raining. Until this incident, residents of Kumbungu have lived in a very safe environment without any form of upheaval to make them question their safety or security.
Shortly after incident, a youth leader and former aspiring parliamentary candidate, Abdul Rauf Sulemana took to Facebook to described the attack as strange and called on the police to expedite action in order to ensure the swift arrest and prosecution of the robbers.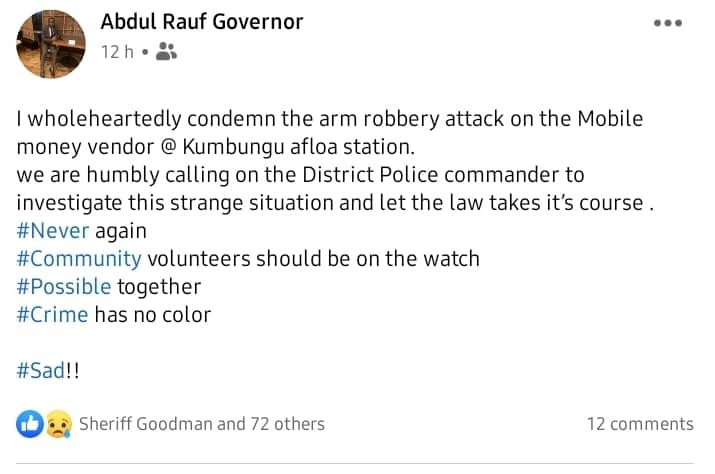 Hits: 181