Students of Assenkyem Ndesala Primary School in the Ahafo Ano North municipality in the Ashanti Region have to deal with the threat of studying in a dilapidated structure serving as their classrooms.
Reports reveal that the roofing sheets on the building of the structure pose great danger to the learners.
The situation which has been brought to the attention of the Ahafo Ano North Municipal Assembly officials and the Member of Parliament (MP) of the area, Honourable Suleman Adamu Sanid has yielded very few results as pupils still have to hold their regular classes in the building.
The structure was built 25-years and in a deplorable state with some roofing almost falling off.
The development has compelled the worried residents of Assenkyem, a farming community to reiterate their call on the government, Member of Parliament and Municipal Chief Executive (MCE) Hon. Martina Appiah Nyantakyi to build a new classroom block to accommodate learners.
The chief of Assenkyem, Nana Mante explained that Assenkyem Ndesala Primary School was solely built by the community 25 years ago and it has never seen any development.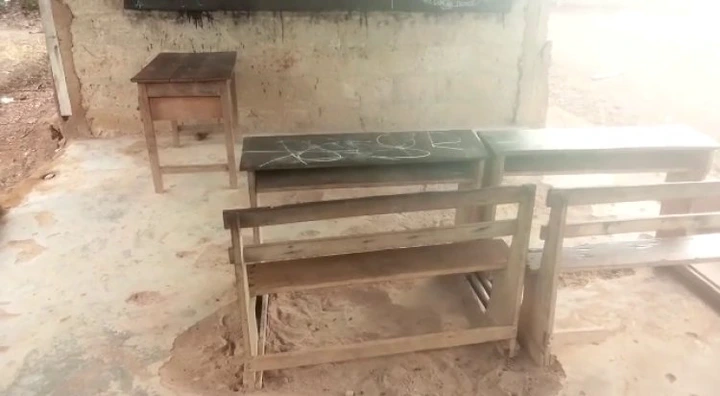 The chief complained bitterly that the tables and chairs to facilitate teaching and learning are also some of the challenges they are being faced.
"Our school is having less than 50 desks From Kindergarten one to six," the chief disclosed and added that letters have been written to the state education regulatory institutions in the municipality for support but nothing has been done so far.
Nana Mante attributed their challenge to the over politicization of issues in their community.
Hits: 37