There are a plethora of challenges facing the education sector and teachers in particular. Inadequate funding of educational institutions and lack of staff accommodation are the most pressing needs.
Teachers who stationed in rural communities are the mostly affected when it comes to inadequate accommodation. Some of the most deprived Districts with many rural dwellers in Ashanti Region include Offinso North, Sekyere Afram Plains Ahafo Ano Districts.
We have  come across a letter from the Offinso North Education Directorate. The letter is dated 16th June, 2021, and signed by the District Director, Mr Michael Ignatius Darbbey-Tannian.
The letter is admonishing staff of Ghana Education Service who are currently occupying staff quarters and bungalows in the Offinso North District to pay some amounts as rent.
The letter said: "As part of getting solutions to maintain and put our school bungalows in good condition, a meeting was held on 2nd June, 2021, between Headteachers of schools will bungalow and the District Director of Education and the following were agreed on:
1. Occupants of the school bungalows will pay monthly rent beginning 1st August, 2021.
2. Occupants of the Rawlings days type of bungalows will pay GhC 20.00 per month per room.
3. Occupants of the morden day type of school bungalow will pay GhC 30.00 per month per room.
4. The money is to be paid to the District Accountant at District Education Office".
The letter further advised that teachers who on pension and still occupying the school bungalows school vacate by Thursday, 15th July, 2021.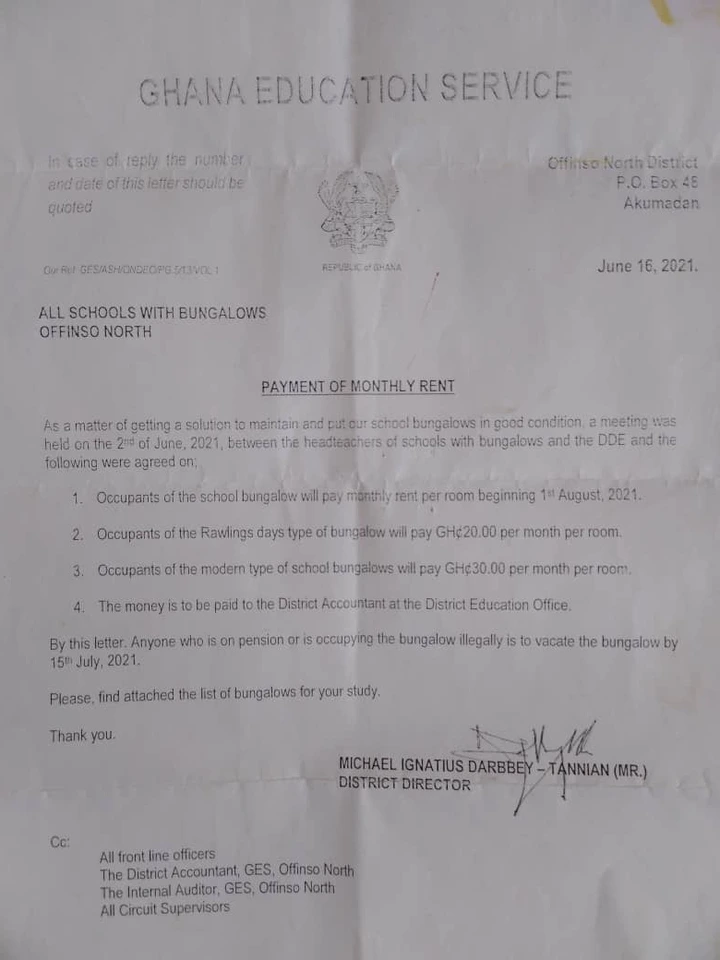 Rural communities in the Offinso North District are Sraneso, Nkwaduano, Apatam, Bobra, Nyamebekere etc.
Hits: 64