Up until the 2012 to 2016 power crisis, the major contributing factor to the persistent, irregular, and unpredictable electric power outage had largely been power generation shortfalls.
after nationwide 'dumsor' in the afternoon, many becomes worried over past comment President Akufo-Addo made against John Mahama;
Reacting to Nana Addo's comments on dumsor, Sulley Seidu Believe what he was against in opposition happening under his government now.
Commenting under a post made by Kwame A Plus, He Wrote….
Almost all the things this man talked of in opposition are happening in a geometrical.
progression under his tenure but he is dishonestly and "serpently" finding different names for it.
I guess some Ghanaians are wiser than his government thinks to see those things; He added.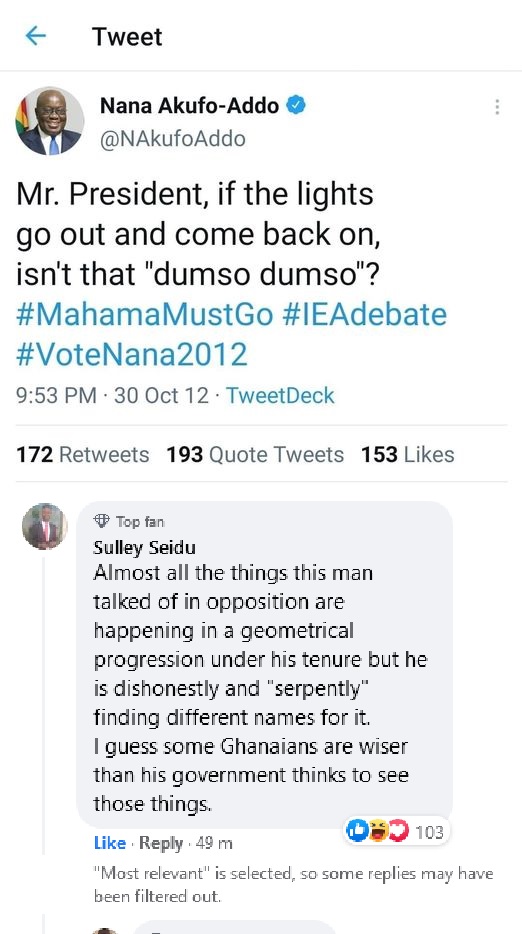 Nana Addo Dankwa Akufo-Addo,  then in 2012 and 2016, a flagbearer of the New Patriotic Party (NPP) who expressed disappointment over "Dumsor".
President Nana Addo Dankwa Akufo-Addo the who urged Ghanaians to reject the National Democratic Congress (NDC) 2016 and 2020 presidential candidate John Dramani Mahama in the general election.
He said Ghanaians want a leader who will put the nation on the path of progress and prosperity, and not one who will lead the country back to the dark days of 'dumsor', economic mismanagement, and the economy into a recession.
Speaking at his tours, Nana Akufo-Addo stated that Ghanaians are tired of 'negative propaganda' in the politics of Ghana, and do not want leaders whose track record in office was abysmal.
"Political leaders who created an economic mess, with the worst statistics of modern times, are telling us today that they are a leader we can trust? Trust, to do what? To take our economy back into dumsor? To take our economy back into recession? To take our economy back into hyper-inflation?"
"Is that what we need? Is that the leadership of the country that we need?" he asked.
According to Nana, Ghanaians "are looking for different leadership. We are looking for leadership that is going to bring progress and prosperity to Ghana, and not backwardness and false claims."
Hits: 24