University of Cape Coast, one of the popular tertiary institutions in the country has been making the news of late and these times, it is not because of their stringent academic measures or their dawn quizzes. It was just not long ago that a lecturer from the school married his own student whom he had taught for a while. A sex leak inextricably involving a Valco Hall affiliate and three strong guys was also all over the internet and social media platforms. This time, it is about a popular student comedian in UCC who is currently in his 4th year. Opana is popular known for his annual "Crack a Rib" show that he has been organizing on the UCC campus.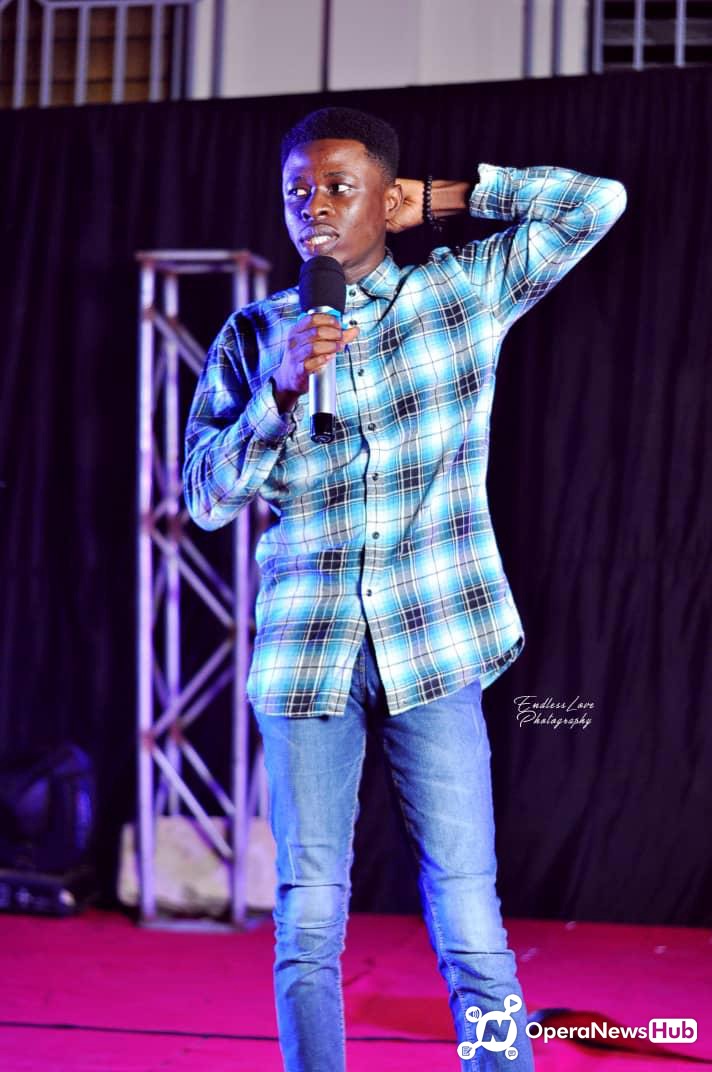 Among the various traditions that goes on whenever fresh students arrive on tertiary campuses in Ghana is the so-called "September Rush" (this is not a rush to start learning). This is a rush for new "babes" who have newly reported on campus to start their tertiary education. "September Rush" because these freshers usually arrive in late August or early September, hence making the period a "hunting" season.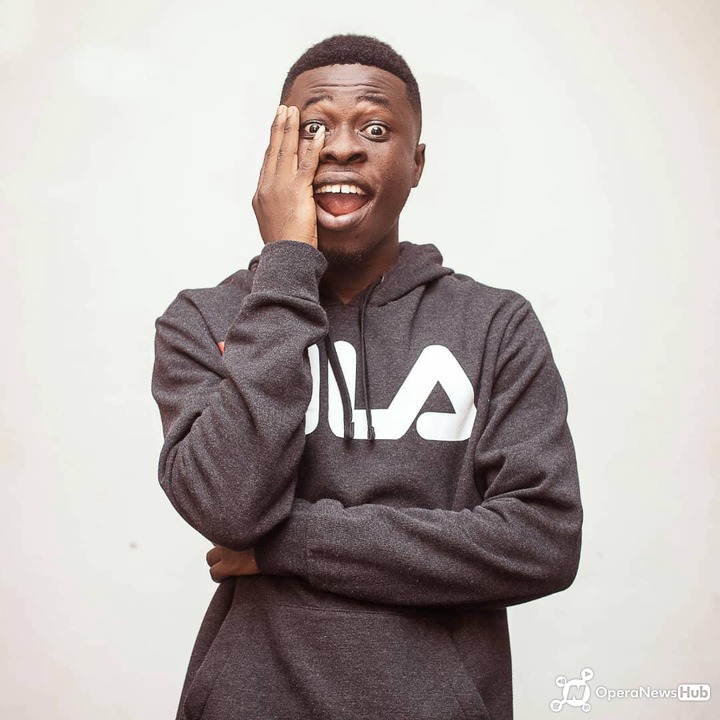 One of these "rushes" involving Opana has fortunately or unfortunately landed him a "quick family." A lady (level 100 student) has been taking to the social media credibly accusing Opana for impregnating, adamantly denying and dumping her, this was intercepted by some controversial comments the lady posted on the Facebook page of the Student Comedian which the comedian had successfully deleted. Graciously according to the lady, she has been dating Opana for the past 7 cruel months and has been impregnated by the student comedian, but the comedian is intentionally trying to deny the unintended pregnancy. In a screenshot of a WhatsApp chat that the noble lady had leaked online, it can be glimpsed from the chat records that Opana furiously denied the pregnancy and told the lady that he wasn't responsible for the pregnancy. Suzy in this chat also confirmed having sex with Opana but Opana doesn't seem to trust this unfortunate lady thereby denying the pregnancy on the grounds that "he was cautious" in his "acts".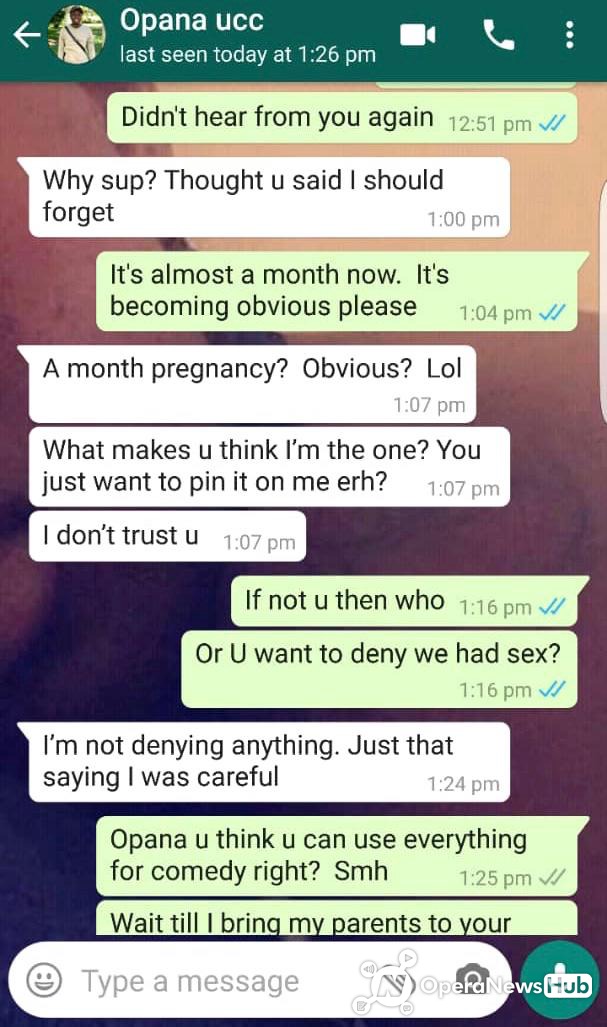 Surprisingly, after the lady had severely threatened to send her parents to Opana's house, Opana promptly told the lady to relax and not to rush into things, he successfully promised to call the lady. Suzy invariably said Opana only called to implore her not to make the pregnancy public since doing so will jeopardize his comedy career, but she has not heard from him since. This has propelled her to make the pregnancy public since she thinks Opana had made a fool out of her and shouldn't go unpunished. She decided to storm the social media platform of the comedian with all her "juicy chats" with the comedian but according to her, Opana has barred and blocked her from all his social media platforms.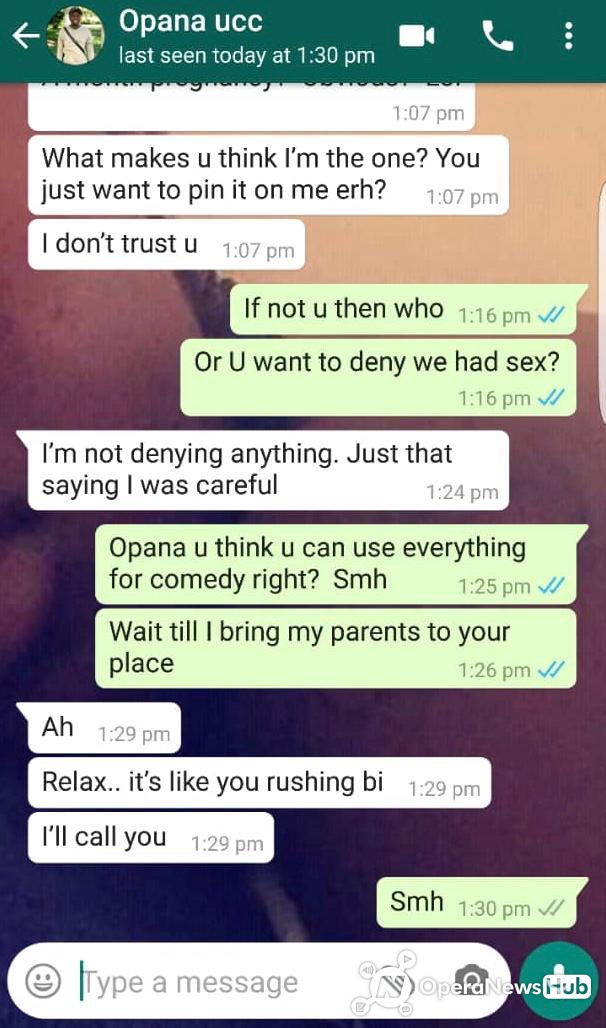 Upon further follow-ups it was inadvertently revealed that Opana started dating this level 100 lady in September right after the she had reported on UCC campus. Suzy Winfrey, a beautiful Social Science student affiliated to the SRC Hall, instantly caught the sensitive heart of the popular student comedian on campus. Opana hasn't been able to talk about this issue publicly since most of the students on campus have been seeing him with Suzy from time to time. One of the students recounted on Twitter that he saw the "duo" enjoying and romancing with ice cream (Probably from YOGAFRESH) infront of VALCO Hall during the freshers Akwaaba Night Bash organised by the School's SRC. Another also said Opana even featured the lady in one of his comedian videos that he had posted on his Facebook and Instagram that is "
Opana Pop Piesie
" and "
@opana_pop
" respectively..
Would Opana get away with this after preying on this innocent level 100 student? What happens to the unintended pregnancy? Would this serve as a lesson for level 100 students who are always eager to enter into relationships with continuing students?
Hits: 113